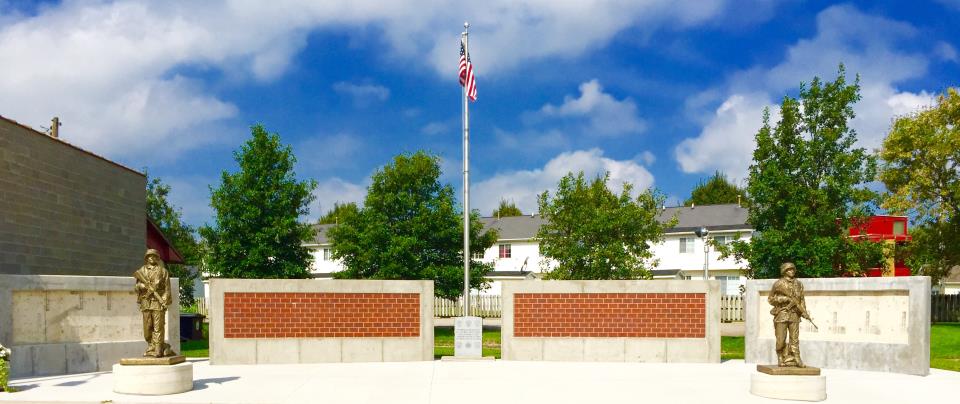 The Baxter Veteran's Memorial was designed and constructed by Baxter American Legion Post #493 and numerous volunteers during late summer 1997 and was dedicated in November of that same year. The original memorial is made up of 2 walls which include over 300 names of Baxter area residents who served in the military, beginning with the War of 1812, each engraved on a brick mounted within the walls. The original memorial also includes a flag pole and monument. In 2014 Legion Post #493 determined the need to extend the original memorial to include 2 additional walls due to requests for additional veteran bricks. Along with construction of the two additional walls, two military statues and two additional flag poles were added.
Baxter Youth Organizations
Hominy Ridge 4H
Summer Rec Program
Travis Henderson
Boys/Girls T-Ball/Softball/Baseball Baxterrec@gmail.com
Boys/Girls Basketball
Boys Flag Football
Girls Volleyball
BAY – Baxter Area Youth Group
Religion/Mission Work  Jr.-Sr. High Youth Group
Eric and Pam Padget -  641-227-3996
Baxter Adult Organizations
Baxter Economic Dev. Corp. 
City Economic Development Committee
Katie Petermeier – President 515-401-8883
Baxter Chamber Of Commerce
Business Support Group
Natalie Moorman – 641-227-3650
Dollars for Scholars
Baxter PTO – Parent Teacher Organization
Bolts Boosters
Baxter School Music Boosters
Jr./Sr. High School Music Support Group
School – 641-227-3102
Adult Rec Program
Softball/Volleyball/Basketball
Gennypher Popenhagen - 515-408-1451
Baxter Wellness Center Committee
           Gennypher Popenhagen - 515-408-1451
Hometown Pride Committee
Community Betterment Group
Gennypher Popenhagen - 515-408-1451
Garden Club
Masonic Lodge
Men's Group
Eric Leonard - 641-787-1147
American Legion
Men's Group
Greg Christianson – 641-227-3760
Baxter Fun Days Committee
Fun Days Organization
Lindsay Black – 515-210-0890
Congregational Church Women's Fellowship
Church Women's Group
Marlys Colyn  –  641-227-3625
Food Pantry
Christmas in Baxter
Gennypher Popenhagen  - 515-408-1451